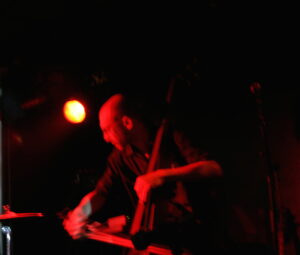 Ilya Ziblat Shay is a composer and performer based in The Netherlands. His works combine notation (in various forms and shapes, in the range between open and structured), improvisation, and interactive live-electronics systems.
As a composer he had the opportunity to create new works for ensembles both in The Netherlands and internationally. Past collaborations include working with Modelo 62, Catchpenny, Asko| Schönberg (NL), Musica Nova, Meitar (IL), Utopia (IT), and with solo musician such as John Eckhardt, Maya Felixbrodt, Jellantsje de Vries, Chloë Abbott. Ilya's works were played at venues such as Orgelpark (Amsterdam), Acker Stadt Palast (Berlin), National Philarmony (Lithuania), teatros de Canal (Madrid), and Nanko Sunset Hall (Osaka). He had the chance to present his work in many festivals, such as ISCM World New Music Days (Antwerp), Sonic Arts Series (Norwich), International Review of Composers (Belgrade), La Escucha Errante Sonic Arts Festival (Bilbao), and in Screen Dive, an online edition of the Gaudeamus 2020 festival (NL).
As a performer, Ilya plays contrabass and uses a variety of interactive computer interfaces to augment the possibilities of his instrument. He had the chance to collaborate with composers Lula Romero, Agostino di Scipio, Amnon Wolman, Silvia Borzelli, Ruben Seroussi, Heiner Goebbels, and others, and to share the stage with musicians such as Ziv Taubenfeld, Oğuz Büyükberber, Fie Schouten, MeiYi Lee, and Germaine Sijstermans.
Active as a researcher, Ilya draws on his mixed musical practice in order to question existing artistic conventions and to draw attention to the relationship between musicians and the world surrounding them. He has been invited to present papers at international conferences and to publish in peer-reviewed journals.
After graduating from the Royal Conservatory, The Hague, Ilya completed a PhD at Leiden University. He lives and works in The Hague, The Netherlands.