The Instrument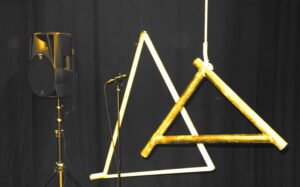 The Instrument is an interactive live-electronics computer system. The computer can be triggered by any pitch-producing resonating object – musical instruments or any kind of objects. There is no score or any instructions, and no limit on the length of the performance.
The Instrument uses pre-recorded audio samples of voices reading a long list of musical instruments, musical actions (e.g. pluck, bow, improvise, slower, softer), musical instructions and so on in several languages. The repeated recording process – recording the entire list of words by different speakers in different native languages – became an intergal part of the composition process, a persistent re-defining and shaping of the material for each performance.
The Instrument can be played in a staged concert or as a sound installation. It invites the participants, both professional musicians and non-musicians, to interact with the computer and to explore the possibilities and limitations of the system.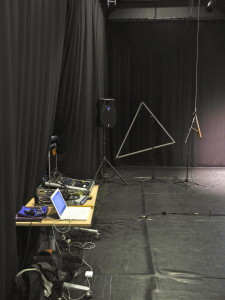 ---
Radio recording by Hatzatz (at Kol Hakampus, 106FM, Israel). The voices speak in Arabic, Russian an
Hebrew
---
Sound sculpture / installation, with audience participation (7.July 2013, Soundmine, Musica, Neerpelt. This was the first version of The Instrument)