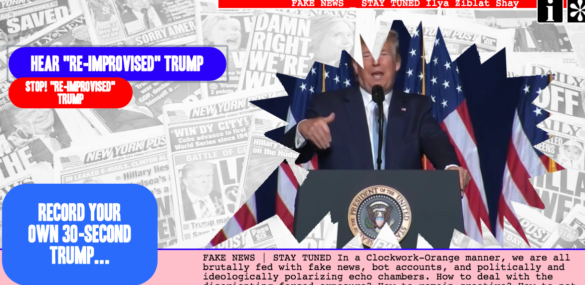 Fake News | Stay Tuned

Interactive video score / online musical game, using excerpt from a youtube speech by D. Trump, with the original images warped (slow / fast motion) and the sound replaced by a virtual 'orchestra' of improvisers (the material was assembled after posting an online call for participants).

The interactive video score allows the participants to record their own version of Trump's speech, interpreting his face and hands movements as instructive guideline:  gaudeamusscreendive.com/fakenews →  (open with your computer browser, not smartphone)

Fake News | Stay Tuned was commissioned by SCREEN DIVE, a platform dedicated to sound-based works and interactive online musical works. Created during the 2020 lockdown, and presented as part of the Gaudeamus 2020 festival online program, the participant can enjoy a musical experience from the very comfort of their own living room / sofa.
---
Program notes: Fake News | Stay Tuned uses a sarcastic tone to address the pressing existential questions of individuals who inhabit a world which is not only reflected by social-media and video-sharing platforms, but is, in fact, very much shaped by them. In a Clockwork-Orange manner, we are all brutally fed with fake news, bot accounts, and politically and ideologically polarizing echo chambers. How to deal with the disorienting forced exposure? How to remain creative? How to not let the bad guys win?
Improvisation is the answer.
It is a musically proactive strategy which lets your voice be heard, a personal act of resistance. As well as, it is an artistic remedy against a harsh, dystopian reality, a musically therapeutic act. Hope you enjoy the experience!
---
The interactive video work is based on an earlier version of the same work: a musical game / text score, guiding the participants (musicians or non-musicians) to improv~narrate a silenced youtube clip. This earlier text version of Fake News | Stay Tuned was published in Synzine, online magazine for musical games: issuu.com/synzine/docs/sinezine_june_iii →