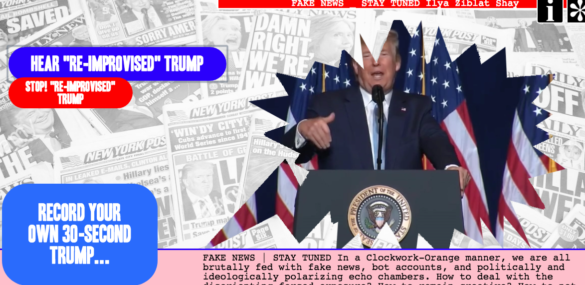 FAKE NEWS | STAY TUNED _web

Segments of a YouTube speech by D. Trump, with the original images warped (slow / fast motion) and the sound replaced by a virtual 'orchestra' of improvisers (the material was assembled after posting an online call for participants), are the material for this work.

The interactive video score allows to record your own version of Trump's speech, following face and hands movements as a visual guideline:

https://gaudeamusscreendive.com/fakenews/  (use a computer browser, not smartphone!)

FAKE NEWS | STAY TUNED_web was featured in Screen Dive, an online program of Gaudeamus 2020 festival. The work uses a sarcastic tone to address the pressing existential questions of individuals who inhabit a world which is not only reflected by social-media and video-sharing platforms, but is, in fact, very much shaped by them.